Rehab Clinical Pilates (formerly clinical pilates) is an exercise based physiotherapy treatment technique designed to reduce pain and optimise muscle function, movement and posture.
At Through Life Physiotherapy, your individual Clinical Pilates exercise program will utilise high quality pilates equipment such as reformer beds and the trapeze table. Your physiotherapist will also teach you a home program of exercises.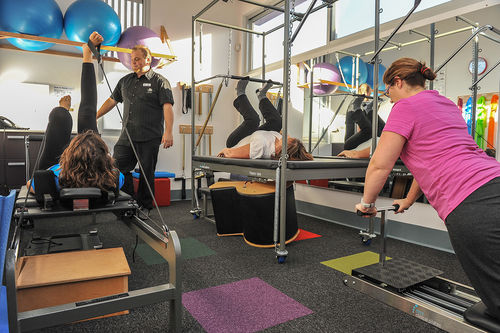 Rehab Clinical pilates can benefit a broad range of people from those with significant physical limitations through to elite athletes. It can assist with
Rehabilitation from a significant injury or accident, including, back and musculoskeletal injuries and neurological injuries
Back or pelvic pain during and following pregnancy
Athletes, dancers and sportspeople who require highly specific training of core muscles to optimise their performance, avoid injury or rehabilitate from injury
Active management of chronic or persistent pain
Post operative rehabilitation
Improving bone mineral density if you have osteoporosis or osteopaenia
Male pelvic floor dysfunction, i.e. after prostate surgery
Female pelvic floor dysfunction, e.g. pain, weakness or continence issues
Download Rehab Clinical Pilates Prices
Following a detailed assessment, your physiotherapist will develop a program of exercises individually tailored to reach your goals. Your specific injuries, pain, weaknesses or limitations are considered in designing your program. As you improve, your exercises are gradually progressed.
Download Clinical Pilates Timetable
Rehab Clinical Pilates sessions run for up to 45 minutes with a maximum of three participants to ensure optimal individual supervision is maintained.
If you are ready to challenge yourself, see Tone Clinical Pilates classes.
Contact us now for your Rehab Clinical Pilates Assessment.