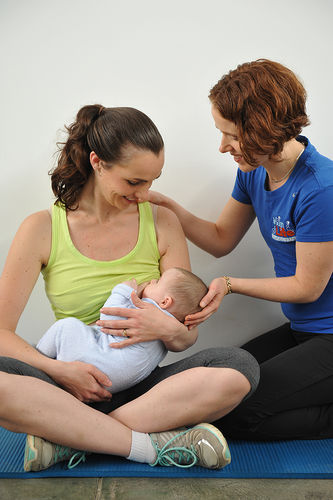 Treatment for inflammatory conditions of the breast.
Mastitis, blocked ducts and other inflammatory conditions of the lactating breast are commonly painful and distressing, requiring immediate expert care to relieve symptoms and restore normal comfortable breastfeeding. Symptoms of mastitis can include; redness, tension, pain and increase skin temperature of the breast, flu like symptoms of lethagy, and feeling unwell, or more elusive symptoms such as a headache or the baby starting to fuss while feeding.
Physiotherapy treatment ideally commences within the first 24 hours of symptoms, but can be beneficial to reduce pain and inflammation at any stage. Treatment is beneficial in the first episode of mastitis or when mastitis is recurrent. Key to the successful treatment of mastitis is to determine the potential causes for each woman. Your physiotherapist will assess in great detail the history of your and your baby's health including lactation to determine the cause of mastitis and avoid further reoccurrances. The physiotherapist will liaise with your doctor when required to ensure that you and your baby receive the best care.
Helen has completed advanced physiotherapy training in the treatment of mastitis with the esteemed Melinda Cooper, physiotherapist and lead educator of the Lacating Breast courses. Helen joined the team of tutors for the Lactating Breast course in 2015. Helen has trained her whole team of practitioners to ensure that women can received physiotherapy care in a timely manner whenever possible.
Treatment for mastitis and inflammatory conditions of the breast can include:
Therapeutic Ultrasound
Lymphatic Drainage Massage
Lymphatic drainage taping
Helen Lowe of Through Life Physiotherapy, with Melinda Cooper Physiotherapist and Dr Adelle McArdle of Monash University are leading the physiotherapy profession in Australia in research and education into treatment techniques for lactational mastitis.
Contact us for your physiotherapy consultation for mastitis as soon as you feel symptoms beginning. The treatment of mastitis is prioritised in our clinic we will always endevour to see you on the day you call.