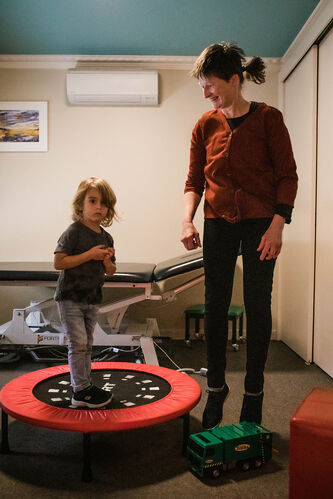 Ilona Adebahr



Allied Health Assistant
Allied Health Assistant Certificate IV - TAFE Gippsland
AUSTSWIM - Teacher of Swimming and Water Safety
AUSTSWIM - Teacher of Aquatics - Access and Inclusion
Ilona has spent the last 35 years working in the disability and health care sector through employment, study and family illness in Germany and Australia / Victoria.
She worked in disability residential care, disability workshops and community settings.
To advance her career and skills, she studied to become an Allied Health Assistant during 2020 as well as an AUSTSWIM Swimming instructor and graduated in 2021. She is grateful, that Through Life Physiotherapy provided her with a placement as part of the Allied Health Assistant training. During this placement Ilona discovered the diversity of clients at Through Life Physiotherapy. In conclusion of her placement Ilona was thrilled to be offered the opportunity to join the Through Life Physiotherapy team.
Allied health assistants work under the direction of a physiotherapist, encourage and motivate clients to complete their specific exercise program established by the physiotherapists as well as deliver their expertise in physical handling skills to assist clients to exercise well.
Ilona brings a very well organised attitude, caring spirit and lots of fun to her therapy sessions with clients of all ages.
With further training Ilona advanced her Swimming instructor skills to become an TaI Instructor ( Teacher of Aquatics - Access and Inclusion.) in 2022. She is trained to teach swimming and water awareness skills to people with a disability, older adults, people with chronic conditions and illnesses as well as to the 'culturally and linguistically diverse' population.
Currently she is in training to become an APPI Pilates instructor.
Ilona is passionate about life skill training for adults and children with a disability with the focus on self-advocacy, empowerment, independent living and full life experiences by developing a goal based plan on each person's interests, strengths and aspirations as well as gaining core skills for work and life.
Ilona grew up in Germany and moved to Erica ( Gippsland) in 2000 with her two young boys and husband. In 2015 her husband became very ill and had to undergo brain surgery. Since then, she has become his carer.
She enjoys all outdoor activities, especially bushwalking with her family and dog, gardening and beekeeping.