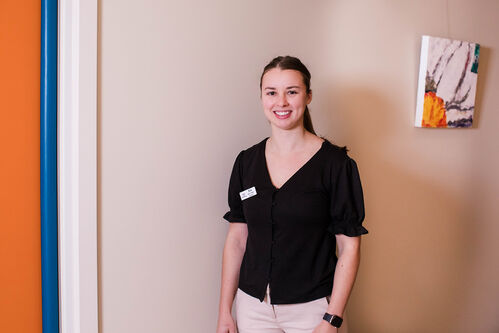 Ella Henderson
Physiotherapist
Master of Physiotherapy – Swinburne University
Bachelor of Exercise and Sport Science – Deakin University
We first met Ella when she did a physiotherapy student placement with us in early 2021. We were blown away by her skills and immediately offered her a job as an Allied Health Assistant. Ella worked at Through Life Physiotherapy for a full year as an Allied Health Assistant, further developing her practical skills while she completed her Masters of Physiotherapy.
Ella qualified as a Physiotherapist in July 2022 and is thrilled to be launching her career at Through Life Physio where she can pursue her passions for treating adult neurological and paediatric populations. With a Bachelor of Exercise and Sport Science underpinning her Physio qualifications, she is an expert in exercise prescription which is crucial in her work treating musculoskeletal and neurological conditions. Her Exercise Science skills are used for injury management and to enhance sports performance.
Ella is passionate about empowering people to achieve their goals through movement and is dedicated to meeting the needs of the patient. Having grown up in Gippsland, Ella has played sport locally since a young age and is currently the Sports Trainer for local football teams, whilst playing netball in the Gippsland League.
Ella has loved her time working as an Allied Health Assistant and is eager about developing her skills as a Physiotherapist in her local community and working with the amazing variety of patients at Through Life Physiotherapy.