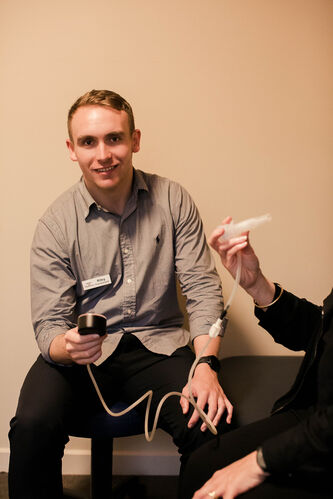 Riley Hamilton
Physiotherapist
Master of Physiotherapy Practice – Latrobe University
Bachelor of Biomedical & Exercise Science – Victoria University
DMA Clinical Pilates - Instructor
Riley joined the Through Life Physiotherapy team at the end of 2021 after graduating from La Trobe University. Coming from a background of strength & conditioning, and sports performance, Riley's interests were challenged across his time at university, where he developed a passion for neurological rehabilitation.
With a Bachelor and Masters degrees, Riley is committed to expanding his knowledge and skills to provide the patients of Through Life Physiotherapy with the best possible level of care. Riley treats a wide variety of patients in our clinic, from young children and paediatric clients, to adults undergoing neurological rehabilitation. Riley also sees clients in the hydrotherapy pool at Warragul Leisure Centre, and will often work with patients out in the community.
Originally from regional Victoria, Riley took the opportunity to move out of the city once finishing university and quickly settled into life in Warragul. When not at the clinic, you can find Riley playing for the local soccer team, Warragul United, or supporting his beloved football team, St. Kilda.
Riley is excited to have the opportunity to work with a diverse range of patients here at Through Life Physiotherapy and is looking forward to meeting more of the greater Warragul community.