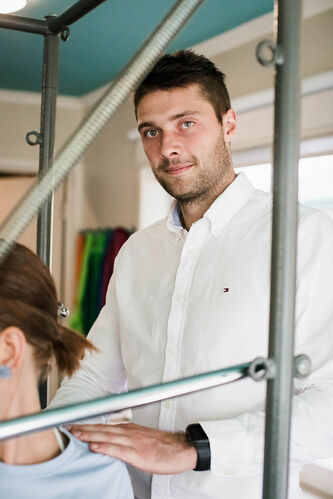 Jake Horstman



Physiotherapist

Bachelor of Physiotherapy – Monash University
Australian Physiotherapy Association – Member
DMA Clinical Pilates – Instructor
Jake has devoted his career to private practice Musculoskeletal and Sports Physiotherapy including working with elite teams such as Gippsland Power. Jake was pleased to join the Through Life team in early 2021. He brings many skills in Musculoskeletal Physiotherapy to ease the aches and pains of our clients. Jake is pleased to now broaden his physiotherapy skills with our diverse caseload. Jake enthusiastically leads evening classes at Through Life Physiotherapy where you can be assured of a great work out with the expertise of a Physiotherapist.
Jake is a born and bred Gippslander, attending St. Paul's Anglican Grammar School and playing in numerous basketball tournaments throughout Victoria. Ultimately, Jake ended up playing for state and national basketball teams giving him a great understanding of the demands, aspirations, goals and injuries of athletes. Jake loves enabling aspiring athletes to manage training levels, detect physical problems early to prevent injury and providing long-term optimisation of physical ability and health. In recent years, Jake has played football locally for the Warragul Gulls in the Gippsland League.
Clearly Jake has endless energy as when he takes a break from work he is usually dirt bike riding, water-skiing or going for a long run.